To celebrate Hotel Designs putting the spotlight on technology, software and controls this month, the editorial team have compiled together all the latest and greatest technology pieces, both hidden and visible, that have launched to significantly help to evolve the overall hotel experience for the better.  
Earlier this month, to celebrate the group's 100th year anniversary, Hilton Hotels released a report supported by experts to reveal how the growing sophistication of technology and climate change will impact the hotel industry in the future. Using the results of the report as a metaphorical anchor, here is a selection of technology and software that is helping to shape the future of international interior design and, as a result, helping to improve the consumer journey within hotels.
Interactivity before checking in
With travel becoming more accessible to everyone, and the rise in alternative home-from-home accommodation, there has also been a rise of design-savvy guests checking in to hotels. Therefore, hoteliers may be interested to know that there is a range of software out there that actually allows the guest to interactively take a virtual tour of their hotel from behind a computer screen, mobile or tablet.
ACT Studios, Hotel Designs' official photographer, is an innovative photography service that works with hotels to capture their interiors interactively. The company uses Matterport, a world leader in immersive 3D technology, offering a platform for the built environment that can easily capture, edit and share 3D models of physical spaces. The technology is able to fully capture the interior and the design of properties, including hotels and leisure destinations.
Matterport technology has already captured several spectacular hotels, resorts and travel lodges across the world. An example of this would be the Four Seasons Ty Warner Penthouse – located in New York that has hosted celebrity guests and has its own private spa room. An incredibly unique example is the Underwater Room at The Manta Resort and the Underwater Terrace – a floating underwater room as a private oasis located in the crystal clear waters of a conservation area in the Pemba Islands in Tanzania several hundred metres from shore. And up above in the clouds, Matterport has captured the Clouds Estate at Helshoogte Pass – a boutique hotel overlooking dramatic mountains in South Africa's wine country.
Hotel Designs' interactive hotel reviews which use the Matterport software include New Road Hotel, Hotel Gotham, University Arms and most recently Oddfellows On The Park.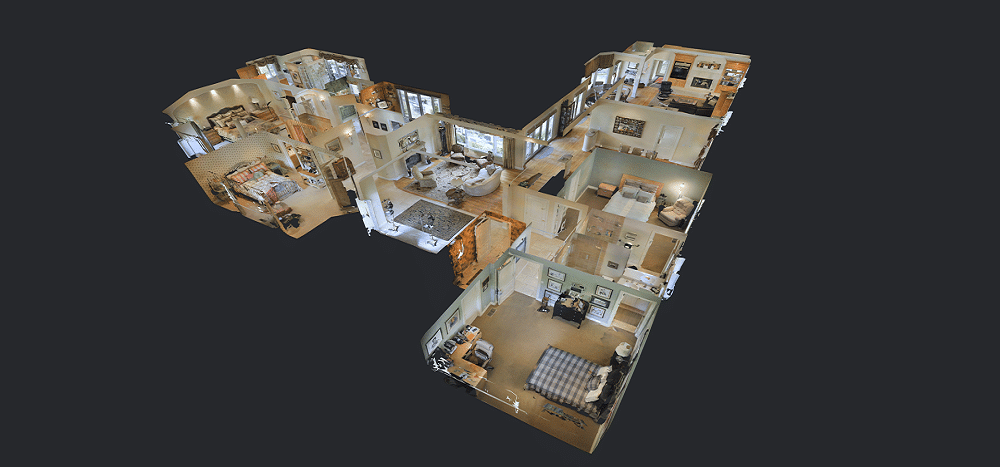 Meanwhile, to improve the volume of guest bookings, STAAH is a channel management software, recognised as an innovator in hospitality technology solutions. STAAH has been using cloud-based products to help accommodation providers around the world power their online growth since 2008. Its award-winning products puts property owners in control by empowering them with technology that helps them attract, convert, analyse and maximise online reach and revenue.
Its latest products to emerge includes STAAH ReviewMinder, which follows a recent integration with booking.com API for review collection and STAAH Max App, giving users the ability to manage their property from their Mobile-On the Go. Find out more about the company's June updates on products here.
Personalisation is key
In order to improve the holistic guest hotel experience, the evolution of behind-the-scenes technology has made a clear path for smart hotels, once considered the future, to emerge in the market. Guests checking in to a modern hotel can now expect to be able to adapt and personalise many elements, such as the AC or order room service using their phones, self check-ins are driving receptionists out of fashion, while smart door-opening solutions such as key cards or even mobile applications are fast challenging convention. Hamilton Litestat is an electrical solutions provider that designs, develops and manufactures innovative electrical accessories of the highest quality. With a vast product range, spanning consumer units, decorative switch plates and sockets, lighting control and multi-room audio, it is a one-stop-shop for all domestic wiring requirements to allow for guests to personalise their own stay.
A British manufacturer, Hamilton Litestat has created an enviable portfolio of switch plate and socket designs to please the hotel interiors fashion industry, as well as smart lighting control and audio systems designed to enhance the hotel guest experience. Its DMX control option allows a Red, Green or Blue colour-wash to be used as accent lighting to add drama to a space – ideal for guest rooms and restaurant/bar/public areas.'
Another emerging product that has emerged from the domestic market, and is quickly making its way into the boutique hotel sector, is Nanoleaf. The company's canvas range allows guests to create their own masterpiece. Designed to add a dash of playful, ambient light to any room, the product, among other settings, reacts to the touch of the user. Via downloading the Nanoleaf app, guests can chose to change the colour of their wall tiles from more than 16 millions colours. What's more, the product is drill free, easy to assemble and works with other smart devices such as Google Home and Amazon Echo.
Hoteliers interested in investing in a quality experience among high-paying guests may wish to include various portable devices for entertainment purposes. LOEWE's mini yet mighty Klang M1 portable speaker is an excellent example of how a hotel can offer tech that gives the guests control. Thanks to its compact dimensions, exquisitely finished stainless steel case and genuine leather wrist strap, the Klang M1 is the ideal companion for guests on the go. Whether connecting to a smartphone, tablet or laptop – the Bluetooth signal is quickly detected and the devices are paired ready to stream your music. In the hotel suite, while working out or even exploring a destination on two wheels, the Klang M1 is available wherever, whenever.
Technology in design
Earlier this year, Hotel Designs reported live from Milan the launch of LG's latest innovation, the world's first rollable LED TV. Designed in collaboration with Foster + Partners, the TV product evolved after the understanding that the modern TV is omnipresent in most living spaces, and with screen sizes getting bigger it often dominates a room even when not being used. The new LG OLED rollable screen allows freedom from walls and offers a sense of liberation to design interior spaces.
While some companies have decided to compact their technology, others have opted to go big or go home. Samsung, for example, has just announced that the hotly anticipated one-of-a-kind display, 'The Wall Professional', is available to order with select partners, as it marches forward with its innovation in LED and large-scale displays. A breakthrough innovation in multimedia content technology, The Wall Professional redefines the category, offering discerning customers the ultimate made-to-measure display solution fit for any business or living space. The Wall Professional is a bespoke display offering premium viewing experiences on a larger, grander scale.
Hidden technology
While it would be easy to focus the lens on technology that is only used and seen by hotel guests, it would not be a true reflection on the rise in technology within modern hotels. New back-of-house systems are now available to further provide more seamless service. Solutions from the likes of Infraspeak have been designed and launched for chaotic hotels that would benefit from improved operational efficiency and reduced costs of maintenance.